5 Tips to Catch a Foul Ball Lead to Catching New Opportunities
Published on August 13, 2013 by arothstein
Nothing says summer more than an evening spent at the local baseball field eating a delicious hotdog and rooting for the home team. That is exactly what went down on June 22, when Broadview University-Layton's Shae Erhart, director of admissions, and Jessica Nelson, paralegal program chair, attended Opening Day of the Ogden Raptors baseball season.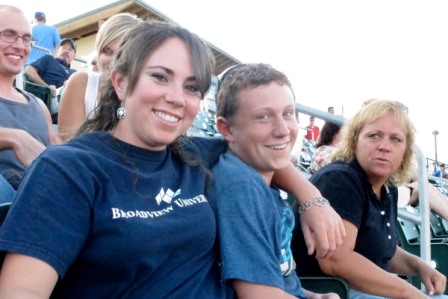 As a sponsor to the team, Broadview-Layton set up a table to share educational opportunities with the crowd—and some tips for catching a foul ball.
Bobby Unser once said, "Success is where preparation meets opportunity." How many people really come prepared to catch the ball—or to improve and enrich their lives? The point is, opportunities do come but we are not always prepared for them.
Here are 5 tips that catching a foul ball can teach you about catching future opportunities.
Bring a glove. A glove extends the reach of the hand and creates a bigger target for the ball. It also hurts less to catch. Metaphorically speaking, a glove can be education, experience, extra savings, or family support.
Bring a hat or visor. The sun can block the view of a ball flying right at you. This shield helps you see past the blinding obstacles like financial problems or team members not participating. A hat could be reading a book to get out of debt or dealing with difficult people.
Keep your eye on the game. It is easy to get caught up in the crowd. Those distractions may keep you from seeing the ball come right at you. Keep an open mind.
Pick the right seat. This requires research on the batter, the pitcher, and the stadium setup. Know the details. Use your resources to your benefit.
Don't get in the way. The game is about the players, not you catching the ball. You may get what you want but doing it at the expense of others can be harmful and disruptive.
Some of the individuals that stopped by the table mentioned they had considered going back to school, but didn't realize the convenience and flexibility in educational needs Broadview offers students. Education is preparation for receiving opportunities.
An upcoming graduating student, Brody Warren, said, "I wanted to advance in my department and my career. School has put me in a position to be able to promote within our department to become a corporal or sergeant for my department."
The Raptors won their opening day game. They were prepared to win, and you can be too. Play ball!
[shareaholic app="share_buttons" id="27427430"]