How to Decorate a Massage Room on a Budget
Published on November 8, 2017 by arothstein
Peaceful. Serene. Calming. An inviting, tranquil atmosphere is important to the overall massage therapy experience.
As your clients enter your space, you'll want them to immediately feel at ease. You should feel rest assured, too: You can create a relaxing environment no matter what your budget. Here, we'll share a few ideas to get you started.
Walls
Wall color perhaps has the biggest impact on overall feeling of a room. Head to your local paint or home improvement store and see what's on sale; there's almost always a section dedicated to close-outs or mis-mixed paints. Perhaps one customer wasn't happy with how a shade turned out, but it may be perfect for someone else. Search the bargain bin for soothing shades such as blues, greens, and deep purples.
Floor
Your massage table should be centered in the room so you are able to comfortably walk around it. This placement is not just practical for massage work, but also will ensure your floor space is mostly open and free to establish a more welcoming feel . The floor itself could also become part of the overall feel of the room; vinyl or laminate faux wood or bamboo flooring can add a nice touch and is easier on the budget than hardwood. Plus, it's easier to keep clean than carpets.  However, a small throw rug may make a nice touch, especially near the chair or changing area.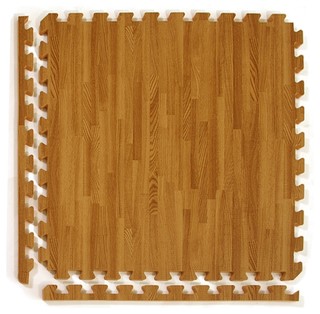 Ceiling
Depending on where your room is located, you may have a standard-issue drop ceiling. You can do some creative things to cover those boring tiles, such as draping inexpensive sheer fabric (cheaper than actual curtains) from above.
Lighting
Soft lighting is key to a relaxing room. While your room may be outfitted by default with overhead fluorescent lights, you don't need to use those during massage sessions. You can probably find some unique and even ornate lamps and fixtures at prices at thrift stores and yard sales, rather than purchasing cookie-cutter models you'd find at discount stores. Other ideas for soft lighting could include stringing holiday lights around the room, an option that's also easy on the budget (after-Christmas sales are the perfect time to stock up!).
Decor
The good news is that minimal design is often thought to be more refreshing and calming, so there's no need to go overboard with artwork or knick-knacks. Consider a few tasteful artificial plants to add some vibrancy and a pop of color. Bowls of stones are popular choices for massage rooms, too. To save some money, hit your local dollar store for a selection of glassware and head into nature to find your own stones.
Storage
You'll need some tools handy to do your job, but a counter or wall of shelves filled with lotions and oils could appear cluttered, cancelling out your calming efforts. Search yard sales, clearance outlets, second-hand shops, or discount furniture stores for cabinets or tables with drawers. These practical pieces add to the aesthetic of the room while "hiding" your supplies.
Extra Considerations
A client's first impression may not start with your individual space. Depending on where your massage room is located, you (or any colleagues you share a practice with) may also need to give special attention to any reception or waiting areas too. These are places a client will encounter before they enter the tranquil environment you've created. If you run an entire practice with multiple rooms, consider trying different decor setups for each, perhaps geared toward a specific therapy performed in that room.
Setting up a massage room while sticking to a budget is doable. Remember, as your practice grows, you can always reinvest into your space with a little redecorating!
People often turn to massage therapy as an escape from the stressors of the world. It's an rewarding experience to be able to provide that service, and it can be a whole lot of fun to create a special, intentional space that enhances these moments of healing.
Massage therapy is a rewarding career that allows you to practice in a variety of settings, including a space of your own. If you're interested in learning more about working as a massage therapist, the Broadview team would love to talk with you: contact us today.
[shareaholic app="share_buttons" id="27427430"]