The Flexibility of Online Modules for MAT®
Published on November 25, 2019 by cclohisy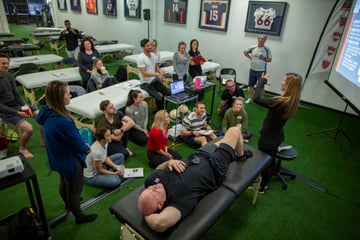 Online MAT® Modules at Broadview University
Every year MAT ® evolves along with our education programs in health sciences. Since partnering with Greg Roskopf's Muscle Activation Techniques, our partnership has allowed us to create a more flexible and convenient Specialist Certification option. Through this collaboration, we have seen strong student outcomes that have shown the power of online modules.
How Does MAT® Work?
Muscle Activation Techniques® is a specific and unique process that evaluates an individual's efficient muscle contraction. Over time, muscle contraction results in a decreased range of motion. As a result, your client will also see decreases in their physical performance.
MAT® and Range of Motion
Range of motion testing shows which muscles have decreased contractility. As a result, and as a result, MAT® Certified Specialists use precise forces to restore that muscle's efficiency. Specialists are trained and certified to perform several force application techniques.
How MAT ® Benefits Professionals
The Muscle Activation Techniques® Certificate program provides an understanding of the techniques to those in health and fitness. Each module studies approaches to assess and corrects muscular imbalances.
Students use the MAT® tools to identify restrictions in joint instability that relates to muscle weakness. Even more, a certified MAT® practitioner helps their clients function with maximum efficiency and balances out the muscular system.  
Labs at MAT ® Headquarters
After completing the online modules' coursework, students test their skills at a two-day lab. and passing the certification exam at MAT® Headquarters. Successful completion allows students to become certified in their disciplines.
How MAT ® Impacts Health Careers
Getting certified in specific disciplines (i.e. Lower Body, Upper Body, Trunk and Spine, and Cervical, Hand/Foot) helps you differentiate yourself from other health industry professionals.
After taking an MAT® certification program, a trainer addresses a void in the conventional health and rehabilitation protocols.
Becoming certified may lead to increased earning potential.
What a MAT® Student Learns in Online Modules
How to assess and address muscular imbalances within the section of the body that you are working with.
Specific activation techniques, attachment sites and bony landmarks that affects muscle performance.
Specific isometrics for specific areas of the body.
The complexity of the muscular system's role in injuries and performance enhancement.
Hear it From the Founder of MAT®, Greg Roskopf
Hear from MAT® founder and developer, Greg Roskopf, about how online delivery for MAT® education through Broadview University provides more resources and support.
Want to Learn More?
Did learning about online modules for MAT® inspire you? This 36 college credit program to becoming an MAT® Specialist can be completed in as few as 4 quarters*. This program is offered online with a lab component at the end of each quarter. This program is 4 continuous quarters over the course of 12 months: Lower Body, Upper Body, Trunk and Spine, and Cervical, Hand/Foot. Financial aid is available for those who qualify.
Contact us today to learn more about becoming Muscle Activation Techniques® certified.
[shareaholic app="share_buttons" id="27427430"]